24 MAY 2018
THE PRIVACY POLICY ON THIS WEBSITE HAS BEEN UPDATED TO COMPLY WITH GDPR
12 April 16
Kieran Moloney Musical Instruments presents

Two Workshops by the US National Mandolin Champion






Radim Zenkl



*Mandolin & Guitar Flatpicking Technique*
May 15, Su, 1 - 3 pm

*Improvisation **f**or All Melodic Instruments
*May 15, Su, 4 - 6 pm


Tickets: 35 Euro each or 60 Euro both workshops
Pre booking advised by Paypal to : europick@zenkl.com


or by call in to the shop:

Kieran Moloney Musical Instruments, 17 High Street, Galway
+353 (0)91-566-488, info@moloneymusic.com, www.moloneymusic.com

Hands on workshop, bring your instruments!

www.zenkl.com

-----------------------------------------------------------------
*Mandolin & Guitar Flatpicking Technique**
*Flat-picking technique summary featuring four basic styles of right
hand picking and two left hand positions,
including a segment on the proper synchronization of both hands, various
strumming patterns, two kinds
of tremolo, cross-picking, step by step method of developing and
maintaining speed and accuracy.
Specific routines for daily practicing. All levels welcome.
*
**Improvisation for All Melodic Instruments***
**(mandolin, guitar, fiddle, flute, clarinet, piano, vocal, etc.)
Learn the basics of improvising in folk, blues, bluegrass and swing
styles. The class will make the difficult task
of practicing improvisation simple by breaking it down step by step.
Radim will be covering several scales and
arpeggios, analyzing chord progressions, arranging a tune, and featuring
some ear-training ideas. Printed materials
will be handed out, audio recording is encouraged. Aimed at intermediate
players though all levels are welcome.

-----------------------------------------------------------------
Video links:

Instructional video sample
https://vimeo.com/150798127

Solo
https://www.youtube.com/watch?v=hiJunO9WeHU

With Scott Nygaard
https://www.youtube.com/watch?v=4fGsINYelbA

-----------------------------------------------------------------
Radim Zenkl - Biography

Music performer, composer and instructor. Originally from the Czech
Republic, Radim resides in California since 1989. His style features
bluegrass, jazz, flamenco, classical, Eastern European traditional and
original music. Radim is the US Mandolin Champion and remains at the
cutting edge of the mandolin's future. He has invented a masterful
technique, the "Zenkl style," in which a single mandolin sounds like
two. According to David Grisman: "Zenkl has re-invented the mandolin in
several different ways." Besides collaborating with the top musicians of
the acoustic music scene he has recorded eight solo CDs (released on
Acoustic Disc, Shanachie and Ventana) and has appeared on more than
sixty other recordings. Radim's worldwide performing and teaching
credentials include guest appearances at prestigious music institutions
such as the Berklee College of Music in Boston, Sibelius Academy in
Helsinki, Finland and teaching at the first, second and last year's
Mandolin Symposium. He has been teaching online private lessons for the
past five years, and last year launched his own school of online group
mandolin classes. His first instructional DVD "Mandolin Primer" was
released on Homespun in November 2015.

-----------------------------------------------------------------
*Quotes from others:*

*/About Radim's teaching:/*

"The most comprehensive review of flatpicking technique I have ever seen."
/- Stephen Rekas, Mel May Publishing, editor/

"I loved the way you approached teaching picking styles. Radim, I went
to Berklee College of Music for 4 years, taught there for 3, and have
been around guitar teachers the better part of my whole life....and NO
ONE breaks it down the way you did."
/- Eric Miller, Hands On Guitars, Chehalis, WA, owner/

"Thanks for the great workshop yesterday at Fretted Friends. I got a
great deal out of it. Lots of things for me to work on. You are an
excellent teacher."
/- Michael Jones, Fretted Friends, Livermore, CA, student/

*/About Radim's playing:/*

"Radim has reinvented the mandolin in several different ways."
/- David Grisman/

"Imaginative and great."
/ - Jerry Garcia/

"Excellent technique and lots of great ideas!"
/- Bela Fleck/
1 Sept 14
JAZZ GUITAR LEGEND LOUIS STEWART and THE LOAR LH-700


Here is Louis with his new The Loar LH-700-VS from the batch that arrived here recently - In his own words:
"I love it..it exceeded my expectations." http://louisstewart.net/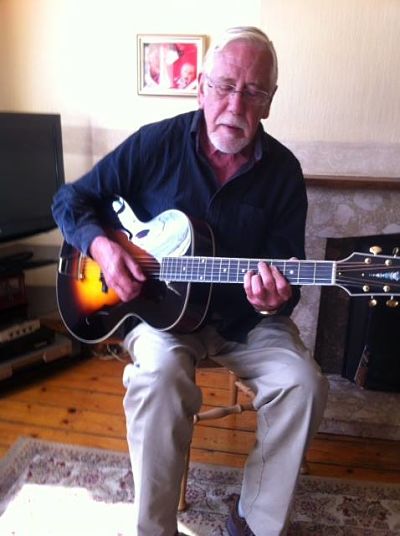 11 Nov 13
Recording King: The Brand, The Instruments, The Legacy
A brief history of the Recording King brand from its roots in one of America's finest guitar manufacturers to its reestablishment in 2007
Recording King form part of our acoustic electro guitar offering as well as being the primary brand for resonator guitars. Today we'd like to celebrate Recording King with a potted history of the brand.
One Hell of a Famous Dad
Recording King was conceived as a sub brand of Gibson which developed in the late 1920s/early 1930s. Although Gibson is known for its electric guitars the business actually began with a mandolin. Electric steel guitars and banjos followed before Gibson began manufacturing banjos and guitars under the Recording King name.
Recording King are the more affordable offspring of Gibson embodying the style and engineering of Gibson's original guitars without the price tag. Despite being sold off by Gibson current Recording King instruments maintain the essence of their Gibson parentage.
Where It All Began
Recording King instruments are synonymous with Montgomery Ward department stores and indeed you cant tell their history without mentioning the retailer. The first Recording King banjos were produced by Gibson for Montgomery Ward in 1929. The success of this first batch led to a long and prosperous relationship between manufacturer and retailer that saw Gibson also supply guitars and mandolins. The instruments were sold as a sort of high quality own brand range of Montgomery Ward.
Though these were high quality guitars within the Montgomery Ward stocks they represent the budget end of Gibson's guitars. They're distinguishable from Gibson's other instruments by the lack of adjustable truss rod which Gibson patented and included in all its other guitars. This difference in the Recording King brand meant they were much cheaper to produce and thus brought the price down for the customer.
The exclusive partnership between Gibson and Montgomery Ward continued until 1940 whereupon World War 2 put a halt to the manufacture of guitars as wood and metal were required for the war effort.
Growth of the Brand
From the first banjos Recording Kings range expanded to guitars, resonators and mandolins. Special lap steel guitars are also now available too. The partnership with Montgomery Ward established the brand within America.
The guitars produced for Montgomery Ward all generally had very short runs, with a new model available in the next season. As a result specific models of these early guitars are extremely rare and have found status as collectors items.
Manufacturing of guitars halted during World War 2 damaging the growth of the brand. The partnership with Montgomery Ward wasn't resumed after the war and the brand lay dormant.
In 2007 Recording King were acquired by Johnson Guitars who in turn are owned by Music Link and once again began producing instruments. Their output is based on original designs made in the same style as their pre-World War 2 guitars.
Brand Ethos
Gibson, in supplying simpler versions of their famous guitars to Montgomery Ward, established Recording King as a brand that allowed people with less disposable cash access to high quality instruments.
What's interesting though is that Gibson hid their connection with Montgomery Ward. In advertising campaigns from the time Recording King instruments were sold as 'nationally famous' or made by 'nationally known maker'. That early separation of the two brands has continued and you won't find reference to Recording King on Gibsons website or vice versa.
Recording King's self professed vision for the brand is to build guitars that are special to the player, are built to last and that eventually get passed on to the next generation.
Today Recording King produces some of the best quality acoustic guitars, resonator guitars and banjos in their own modern purpose built factory in China. This sets them apart from apart from the many lesser quality brands which all subcontract to the same factories giving their instruments a generic feel.
Recording King employ an experienced team of instrument designers from the industry in the United States, among them Greg Rich, who has designed instruments for such people as Earl Scruggs, Slash and Paul McCartney.
His extensive reasearch on Montgomery Ward has been utilised here.
10 Nov 13
Sweeneys Men and the first Bouzouki
Since the previous post this Bouzouki has surfaced.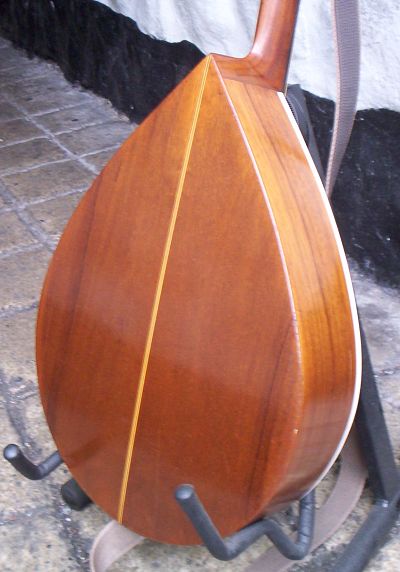 I was delighted to find out during the week that Sweeneys Men (L – R Andy Irvine,Terry Woods & Johnny Moynihan) one of the first
folk groups from the 1960's are to to reform for a concert here in Galway next Friday.By coincidence Johnny Moynihan dropped
in for strings yesterday with a bouzouki thats been with him all that time,made 50 years ago in 1963 by John Bailey.
Johnny told me it was the first flat back bouzouki ever to be made,and kindly allowed me to to take some photographs – half
way through string change!
28 Oct 13
Thanks to ANA RICHINGS for her guest post below about bouzoukis.Ana is a fan of Irish folk music and story telling and has recently taken up the bouzouki.
How the Irish Bouzouki Developed From Ancient Greece
Follow the progress of the Irish bouzouki from its roots in the Eastern oud and Greek loot to todays 8 string
The Irish bouzouki has a long and interesting history that sees the beginnings of the stringed instrument in Ancient Greece, weathering war, exodus and adaptation to be the instrument we know today.
The history of the Greek bouzouki
Bouzoukis are broadly known as a stringed instrument with a long neck and bulbous body. There are two varieties, the trichordo which has 3 pairs of strings aka courses i.e. 6 strings in total and the tetrachordo which has 4 courses i.e. 8 strings in total. The tetrachordo is the most recently developed, joining its three string brother in the mid 1900s. Prior to this the instrument underwent several other changes.
The bouzouki is closely related to the lute and the oud which are rooted in Southern Europe, northern Africa and the Near East. The bouzouki itself can be traced to the thabouras, of the lute family, which was played in Byzantine times when Greece and Turkey were one. Despite the fall, rise and subsequent second fall of the Byzantine Empire it wasn't until the Greco-Turkish war 1919 1922 when the Greeks in Asia Minor fled back to Greece that the bouzouki became a distinct instrument separate to other variations on the design.
As mentioned above the bouzouki is originally a three course instrument that spawned a four course instrument in the 1950s.
The difference between Irish and Greek bouzoukis
The Irish version of the bouzouki is in its relative infancy compared to the Greek instrument however both have undergone changes to become what they are now. Most notably the Irish version has a flatter back on the usually deeply rounded body.
The Greek bouzouki can have 6 or 8 strings whereas the Irish one always has an 8 string set up aka tetrachordo. The Greek instrument also has a longer scale or neck.
Apart from differences in their physical appearance the two regional bouzoukis also sound different. They are tuned different with the Irish classic tuning being G₂D₃A₃D₄ and the Greek tuning being C₃F₃A₃D₄ and D₃A₃D₄ for the 4 course and 3 course respectively. Some people feel the Irish tuning is actually quite close to the tuning of the original 3 course Greek bouzouki.
The bouzouki comes to Ireland
Johnny Moynihan is credited with bringing the four course tetrachordo bouzouki to Ireland in 1965 (I believe he denies this, edit Kieran). At first the original Greek instrument was played to produce traditional Irish music but very quickly it became apparent that adaptations were required.
Early Footage of One of the First Irish Bouzoukis
Here's an early example of the bouzouki in Irish music, filmed in 1973, around 10 years after Moynihan first introduced the instrument to Ireland:
www.youtube.com/embed/4vQvr3iiZOY
27 Oct 13
Tom Portman

endorser of our Galway made
Ó
R
á
inne Guitars
plays the small body 13 fret model made from

Irish Yew

at the above link.
This wood is no longer available to the maker as its extremely rare to find big enough to make guitars with.It came from a 700 year old tree in Co. Wicklow.We also had one Bouzouki made from it.
24 Oct 13
SALVADORE CORTEZ BASS/BARITONE NYLON STRING
After a long wait,this is finally back in stock.Tuned B-E-A-D-F#-B
One sting lower,or 4 notes lower than standard tuning.In the classical world this is called a bass guitar and steel string guitars made for this tuning are referred to as a baritone guitar.Whatever its called,with the lower tuning,deep body and nylon strings this guitar sounds like a grand piano! Comes with a delux case.See classical guitars page for more information.
06 Oct 13
3 different ways to mic your acoustic guitar
The placement of microphones when recording is an important decision. Different placements pick up varying sounds and tones emitted by the acoustic. If you've been playing for a number of years though I'm going to go ahead and guess that you already have a preferred set up. This means that you won't often stray from this tried and tested recording method and never find new things!
Here we're going to outline a few different methods you can choose when attempting to mic your acoustic.
Note that a few of these set ups may require two microphones.
X-Y Pattern
This is the most common type of stereo set up going. It's a simple set up that involves two condensers pointing inwards towards the 12th fret. It's said that 5 to 6 inches from the guitar is the best distance to place the mics. The capsules should be as close together as possible without touching and the mics should be kept at a 90 degree angle.
The spaced pair
Another easy set up this configurations uses two condenser microphones set at around two and half feet apart. One mic should be directed towards the 8th fret and the other at the twelfth fret. This method is ideal for guitarists who enjoy using hammer ons and pull offs as it picks up a lot of the left hand work and fret noise. Have a play around with the distance from the guitar. Further away will give you a thinner recording but too close will choke the guitar sound.
The vertical spaced pair
As you can probably guess, this configuration isn't too dissimilar to our last. The main difference being that the microphones are spaced vertically rather than horizontally. Two condenser mics are placed around seven inches apart and pointed inwards. The top mic should be pointed at the top three strings and the bottom mic at the bottom 3 strings.
This method lends well to singer songwriter recording as it gives a much more intimate recording. Again, have a play around with the configuration as it offers quite a bit of versatility. I don't doubt that you'll be able to find something that's right for you.
So there you go. 3 different ways to mic your acoustic each offering its own style.
29 Sept 13
New instruments in stock from Ashbury include the cedar topped mandolin,and Oak bodied Tenor Guitar pictured below
23 Sept 13
Acoustic guitars and humidity
For many guitar players humidity isn't something that they often consider until it's too late. Here in Ireland we live in a fairly instrument friendly climate. But this doesn't mean that we should dismiss the negative effects humidity (or lack of) can have on our instruments.
Humidity can plummet in your home when you heat the air causing dry air. What does dry air do to solid wood? It can shrinks it. The damaging effects that this can have on an instrument are numerous. It's not just too little humidity that can damage the guitar though. Be aware that if the air is too moist, it can have an adverse affect on your instrument too.
So, how can you tell if your guitar is too dry? One of the biggest telltale signs that your instrument is too dry is the action on the instrument. If you start to feel a slight change in the instruments playability then it could be a sign that it's drying up. Another way to tell is to see if your fret board is shrinking. Solid wood in dry conditions shrinks,and in the worse scenario is in danger of cracking. If the frets of your acoustic are protruding over the edge of the fretboard that's another sign,take it to a repair shop ASAP.
And if it has absorbed too much moisture ? Logically,it will do the opposite of a dry guitar and start to swell.The top will have swollen in the area behind the bridge and around the middle of the back.The action is likely to have increased a bit,because the top has swollen the bridge has risen with it.Dampness is a feature of the weather in Ireland,so unless you live in a super insullated house with a heating system that makes the air very dry - I think most people will need to look out for the effects of damp on a guitar.
What can you do to monitor humidity? There are an array of gauges on the market that allow you to keep an eye on the humidity levels in a room. If the humidity drops too low or rises too high, you'll be notified so that you can make necessary adjustments. They're an inexpensive way to make sure that your guitar stays healthy.
Whilst you're picking up a gauge you should also purchase something that will help control the humidity levels so that when you're notified that the air is too dry, you can alter it. The best product on the market to help you control humidity is the Humidipack. It removes all the guess work out of ensuring your guitar is safe and does all the hard work for you. You simply slip the pouch in between your strings and into your soundhole while its in the case. If it detects a drop in humidity it adds moisture. Too moist, and it'll reduce humidity.
What could be easier?
Maintaining proper humidity levels in your instrument means that there'll be a far fewer trips to repair shops and you'll be able to enjoy a consistent quality from your instrument!
THE LOAR LH-750-VS
A beautiful,but rare instrument! We has two of them this summer and they sold quickly.
THE LOAR MANDOLIN - range expanded.
Last week saw delivery of The Loar LM-300 mandolins among a number of new to the shop instruments and re stocking of others.The LM-300 is an A style mandolin with the hand carved quality of The Loar range and a great budget friendly price!
NEW MODEL OCTAVE MANDOLIN
This has been designed in collaboration with Antonio P. Carvalho Instruments in Portugal to provide an Octave Mandolin to compliment the similar APC Irish Bouzouki already proven.Its been difficult to find an OM in this price range with a decent sound and a convincing,unambigious tone from the G strings - this instrument overcomes those problems.
SOLID SPRUCE TOP
SAPELLE BACK & SIDES Price